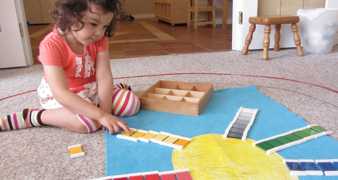 Location
We are located at 18389 68 Ave (184th & 68 Ave), Surrey BC.
Now accepting 2023 - 2024 registration.

Please contact [email protected] or call (604) 575-8737 for more information.
2021 Readers' Choice Award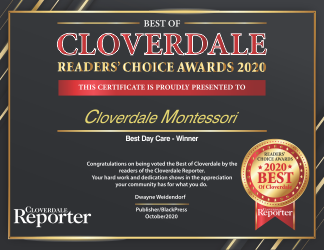 Thank you for voting us for the Cloverdale Reporter:

"Best of Cloverdale Readers' Choice Awards 2021 - Best Daycare Winner"

We are grateful for all the parents and families that support our school. Also we thank the teachers for their dedication and passion to the children and families.
~ Ms Frances
Learning From Home
If you would like to continue learning from home choose a grade level and follow the links below to get started.

Free Online Resources

Activity Village
Preschool, Kindergarten and Grade 1

Click Here

Welcome
Welcome to Cloverdale Montessori School. We are a licensed preschool, daycare and after school care in the Cloverdale, Surrey and Langley area. Our school provides a warm caring and nurturing environment with a small class size. Come visit us, we would love to show you our school.
Montessori Philosophy
Children learn by their own path, inspired from within, and grow in different ways. Montessori's view of children was that they needed to be assisted, to be guided, but not to be taught.
We provide children with the Montessori "Prepared Environment" to assist them to learn through their unique self-discovery and individual learning path.
Montessori is a structured learning environment. The teacher observe children's progress closely and a new work will be introduced to children whenever they are ready. We do not pressure children when they are not ready to learn and also provide educational fun activities for further social development.

Tell me and I'll forget;
teach me and I may remember;
involve me and I learn.
~ Benjamin Franklin